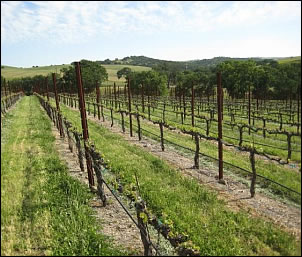 During visits to John's family we discovered the wonderful grape-growing areas surrounding Paso Robles and planted Mia's Vineyard, named after our daughter, and located at the corner of Highway 41 and Cripple Creek Road. There is much discussion about the East and West Sides of Paso Robles and some winemakers even pit one against the other, stating that one is more ideal than the other for their varietal of choice. We've side-stepped all the existing controversies by founding the Falcone Corner, our unoffically named little slice of viticultural heaven, located in the eastern corner of the Templeton Gap. Planted in 2000 our eight-acre Mia's Vineyard includes four acres of Syrah and four acres of Cabernet Sauvignon. Click here for a map of where our vineyard is located.
Falcone Family Vineyards wines are the result of winemaking careers, which led to the planting of this small estate vineyard in Paso Robles. Our farming methods combine with our winemaking techniques to produce distinctive wines that reflect the soils and climate of this vineyard. We continually reach for the highest level of quality.
Clonal Profile: Syrah – Estrella clone, Cabernet Sauvignon – Clone 337
Rootstock, planted in 2000, for both varietals: 420 A, low vigor stock
Trellis system: VSP (Vertical Shoot Positioning)
Soils: Diablo Ayer soils – clay loam over calcarious sandstone shale, streaks of lime and scattered granite rocks
Location: Highway 41 and Cripple Creek Road, East Templeton towards Creston.
Elevation: 1200 – 1250 feet
Climate: High Region II - roughly 2900 heat degree days